Dariel Turley named Correctional Officer of the Year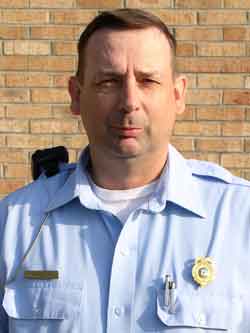 RALEIGH – Secretary Theodis Beck and Divisions of Prisons Director Boyd Bennett have named Sgt. Dariel Turley as one of 10 Correctional Officers of the Year.
Turley, a sergeant at Durham Correctional Center, is being recognized for his high productivity and exceptional work. As a sergeant, Turley serves as a role model for other staff to follow. He willingly does whatever is asked of him, volunteers to do what is needed, is always well-prepared and pays meticulous attention to detail—right down to the military press on his uniform.
As coordinator for the drug testing program at Durham, Turley has transformed the program into a well-run program and changed employees' outlooks about the usefulness of the program. He has trained several officers to assist him, which allows for drug-testing during all shifts and rotations. In addition, Turley is the facility's most active employee when it comes to finding contraband, including creative places like umbrella poles and air conditioning ducts. He also is fluent in Spanish and helps interpret for Spanish-speaking inmates.
"Sgt. Turley is what every supervisor wants in an employee: energetic, trustful, well informed and loves the work he does," says David Cates, superintendent at Durham Correctional Center. "He far exceeds the normal requirements of a correctional sergeant and has made a significant impact on our custody operations."
Turley began his career with the Department in 1997. Prior to joining the department, he served 17 years in the United States Army.
Governor Michael F. Easley declared May 9-15 as Correctional Officers Week in observance of the important public safety work done by more than 11,000 correctional officers in North Carolina's prisons. The department will hold a ceremony May 14 honoring Turley and the other nine officers.
# # #