David Williams named Correctional Officer of the Year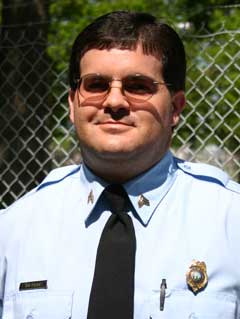 RALEIGH – Correction Secretary Theodis Beck and Divisions of Prisons Director Boyd Bennett have named David Williams of Gates Correctional Center in Gatesville as one of 10 North Carolina Correctional Officers of the Year.
Williams was selected for his excellent job performance. He currently is eligible for promotion and serves as an acting sergeant at Gates CC. His duties include collecting inmate DNA and drug screening samples and supervising the prison during third shift. He also serves on the Division of Prisons eastern region drug interdiction team and helps the department's blood hound handlers in their training program by laying tracks for the dogs to follow.
"Officer Williams takes pride in his job and is an asset to Gates Correctional Center and the Department of Correction," said Assistant Superintendent Willie Davis.
Williams began his work at Gates Correctional Center in 1997. He was previously employed at Pasquotank Correctional Institution in Elizabeth City. He is a graduate of Immanuel Christian School in Edenton and the College of the Albemarle. He lives in Chowan County.
Governor Michael F. Easley declared May 9-15 as Correctional Officers Week in observance of the important public safety work done by more than 11,000 correctional officers in North Carolina's prisons. The department will hold a ceremony May 14 honoring Williams and the other nine officers.
# # #
Editors: A digital photo of Williams is available by calling the Public Affairs Office at 919-716-3700.
---