Joey King recognized as 2004 Probation/Parole Officer of the Year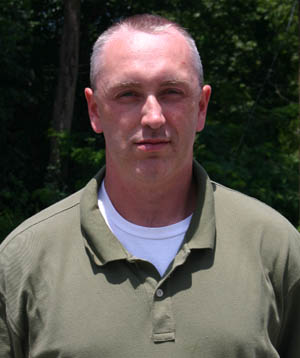 RALEIGH - Secretary Theodis Beck and Robert Lee Guy, Division of Community Corrections director, have named Joey King as one of eight 2004 Probation, Parole and Community Supervision Officers of the Year. King is an intensive probation/parole officer working in Mitchell County.
King is recognized for an act of heroism. He was outside the magistrate's office at the Spruce Pine town hall on June 26, 2003 when he heard gunshots on the floor above him. After realizing he was the only officer on scene with a weapon, King started going from office to office to locate people and help them exit the building. He came upon one victim in a hallway who had been shot and killed.
Moments later he located the gunman in the town council's boardroom. When the man saw Officer King, he raised his weapon and shot himself in the throat. King immediately called EMS and law enforcement. The gunman's ex-wife, who was his likely target, was hiding behind a locked door. Investigators said she might also have been shot if King had not acted so quickly.
"Officer Joey King acted with courage, bravery and without regard to himself when he responded to this dire situation in such a heroic manner," said Susan Maney, chief probation/parole officer.
King joined the department in May 1998 as a probation/parole officer in Mitchell County. In March 2003, he became an intensive officer, supervising higher risk offenders.
Governor Michael Easley has proclaimed July 18-24, 2004 Probation, Parole and Community Supervision Officers' Week in recognition of more than 2,000 community corrections officers who supervise more than 118,000 criminal offenders in North Carolina communities. The eight officer of the year will be recognized July 21 at a ceremony in Apex.
# # #