Department mourns death of first full-time drug dog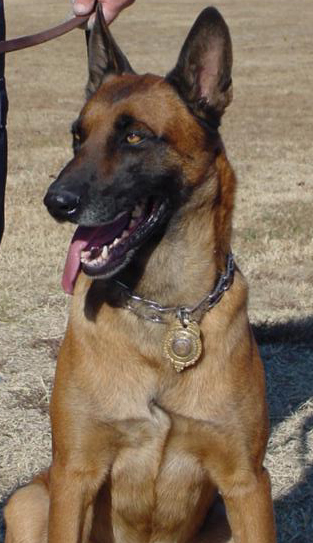 RALEIGH - Arras, the Division of Prisons' first full-time narcotics detection dog, died Tuesday. The nine-year old Belgian Malinois had been with the department since January 1997.
"He will be seriously missed because he was such a multi-dimensional dog and had such a good disposition," said Sgt. Eddie Poole, supervisor of the narcotics detection team. "He not only sniffed out countless amounts of drugs, but he also helped in tracking escapees and missing persons."
As a puppy, Arras was trained in scent tracking before he came to the department. He was first teamed with Correctional Officer Lee Taylor and partnered with Poole in 2000. Both Taylor and Poole were impressed with the dog's abilities and have said he could pick one scent out of a thousand.
Arras was successful in locating a young girl in 1999 who had been missing from her home in Hoffman for about six hours. Arras also could follow a scent in the water and was instrumental in locating an inmate's body in the Roanoke River in June 2000 after an escape from Odom Correctional Institution.
When he wasn't tracking drugs or humans, Arras could pick up the scent of a dog treat, which he confiscated from employees who came to know him across the state.
"His favorite thing was Egg McMuffins and he also loved peanut butter dog biscuits," said Poole. "He was my buddy and such a hard worker. He deserved every treat he received."
Arras drew crowds to the Department of Correction booth at the State Fair in Raleigh for several years. In addition, he was well received at schools when his handler used him to drive home the message to young people to stay away from drugs.
Preliminary reports indicate that Arras may have died from the effects of the tick-borne disease Ehrlichiosis. He had been undergoing treatment for the illness for about two months.
The division has no immediate plans to replace Arras. It now has six dogs that are specifically trained for narcotics detection. The division also breeds bloodhounds to track escapees and missing persons. Poole says they will likely start training one of the narcotics dogs to track human scents as well, but he says Arras will certainly be missed.
For a digital picture of Arras, contact the Public Affairs Office at (919) 716-3700.
# # #