Terry Harvel named superintendent
at Randolph Correctional Center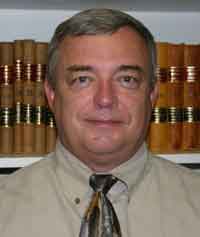 ASHEBORO – Secretary Theodis Beck has named Terry Harvel superintendent of Randolph Correctional Center.
Harvel, who has been assistant superintendent at Randolph since January 1996, replaces Superintendent Clinton Holt, who retired September 1. Harvel's promotion was effective October 1.
"Terry Harvel brings a wealth of experience and professionalism to the job," said Secretary Beck. "I am confident that Randolph Correctional Center is in good hands."
Harvel says his new position is the realization of a dream he has nurtured for nearly 30 years.
"This is a goal I set when I first started. I'm responsible for a lot of people and their lives based on the decisions I make," he says. "The operation is so smooth right now. It's running so well. I can't see making any changes at this time."
Harvel earned an associate's degree in criminal justice at Montgomery Community College. He joined the department in 1976 as a correctional officer at Moore Correctional Center in Carthage. In 1978, he was promoted to sergeant at Montgomery Correctional Center in Troy. He was a unit manager at Southern Correctional Institution from 1982 to 1996.
Harvel was born in Tampa, Fla., but has spent most of his life in North Carolina. He and Betty, his wife of 34 years, were childhood sweethearts. They live on the shores of Lake Tillery in Montgomery County.
The Harvels have a daughter, Tanna, who is 32; a son, Joshua, who is 18, and two grandchildren.
Superintendent Harvel enjoys hunting, fishing, riding four-wheelers and playing paintball with his son. He also collects and restores antique clocks.
# # #