MARION'S WORK FOR LOCAL AGENCIES TOPS $750,000.00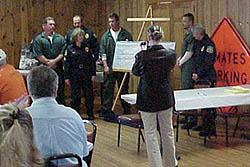 MARION - McDowell County Officials held their annual Inmate/Staff Appreciation Dinner on January 14th, 2004.
During 2003, the Community Work Crews and Litter Crews from Marion Correctional Institution completed 52,160 hours of work in McDowell and surrounding counties. A number of other agencies are being assisted by contracting inmate help to lower labor cost. The combined projected savings for labor costs brings the grand total to more than $750,000.
Officers and inmates presented McDowell County officials with a large check to symbolize the value of this year's work. Senator Joe Sam Queen and State Representative Mitch Gillespie were keynote speakers at the event. Both related their appreciation to the staff and inmates for their hard work and accomplishments to their community.
Chairman of the McDowell County Commissioners, Mr. David Walker, presented a resolution of appreciation to the Marion Minimum Security Unit during the event.
Also in attendance were Mr. Steve Bailey, Regional Director and Mr. Roger Moon, Operations Manager from the Western Region DOC Office.