New Criminal Justice Partnership Program coordinator named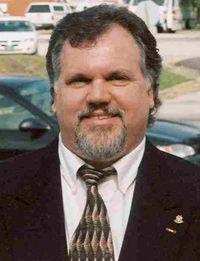 SMITHFIELD- Division of Community Corrections Director Robert Lee Guy has named Conrad Strader as the Criminal Justice Partnership Program (CJPP) coordinator in the Second Judicial Division.
"Conrad Strader brings with him 25 years of experience in probation and parole," said Director Guy. "I am confident that his experience in working with offenders will be invaluable as he partners with counties in providing programs that will help offenders become more productive citizens."
Strader will be based in Smithfield, but he will oversee the CJPP in the participating counties in the Second Judicial Division, which is comprised of 11 judicial districts in the central part of the state. CJPP was established in 1994 as part of the State-County Criminal Justice Partnership Act. Through CJPP, the Department of Correction provides grants to counties that establish community-based corrections programs offering alternatives to incarceration. CJPP complements structured sentencing laws by preserving prison and jail space for violent and repeat offenders, while creating less costly punishments in the community for less serious offenders. Some of the programs include day reporting centers, pre-trial release programs and substance abuse treatment programs.
A Harnett County resident, Strader has been the Chief Probation Parole Officer for that county for nearly ten years. Prior to that he was a parole officer with the Pre-Release Aftercare program; a house arrest officer; and an intensive probation officer. Strader also has been the chairman of the board that oversees CJPP in Harnett County for nine years. He recently served on the committee making recommendations to the county about the construction of a new county jail.
Strader says he is looking forward to getting started in his new role. "I'm excited because I feel that providing education and substance treatment programs are imperative to helping offenders succeed," said Strader. "CJPP gives the counties and citizens a voice in how they want to spend the funding allocated towards helping offenders."
A native of Rockingham County, Strader graduated in 1974 from Wentworth High School. He went on to receive a bachelor's degree in political science and sociology with a minor in criminology at the University of North Carolina at Greensboro.
# # #