Larry Harris named Correctional Officer of the Year
<![if !vml]>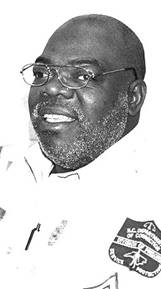 <![endif]>APEX – Larry Harris, first shift segregation unit sergeant at Neuse Correctional Institution near Goldsboro, today was recognized as one of 11 Correctional Officers of the Year. Correction Secretary Theodis Beck, Prisons Director Boyd Bennett, colleagues, friends and family honored the officers at a ceremony where the officers received a framed certificate.
Despite 20 years in the Department of Correction, Harris was cited in the award more for his communication skills than his experience. The application of those skills has contributed greatly to the safety and security of Neuse Correctional Institution near Goldsboro, said Superintendent John Crawford.
"He readily handles difficult inmates to de-escalate situations that could become more volatile," Crawford said. "If an inmate starts creating problems, Sgt. Harris most of the time can get the inmate calmed down before it gets out of hand."
Harris constantly has a positive, helpful, hard-working attitude, and conducts himself professionally at all times, Crawford said. His demeanor affects both staff and inmates.
"They have developed respect for Sgt. Harris because he has built a foundation of dependability and reliability through his work ethic and actions," the superintendent said. "He sets the example for his staff and others.
Harris, a graduate of Goldsboro High School, first worked in the Department of Correction as a correctional officer at Central Prison 1985-95. He has since been a correctional sergeant at Neuse Correctional Institution.
Gov. Michael F. Easley has declared May 2-6 as Correctional Officers Week in observance of the important public safety work done by more than 11,000 correctional officers in North Carolina's 76 prisons.
# # #