Mark Higgins named Correctional Officer of the Year
<![if !vml]>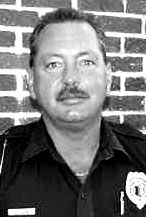 <![endif]>APEX - Mark Higgins, a lead correctional officer at Craggy Correctional Center, today received recognition as one of 11 Correctional Officers of the Year. Correction Secretary Theodis Beck, Prisons Director Boyd Bennett, colleagues, friends and family honored the officers at a ceremony where the officers received a framed certificate.
Higgins was recognized for an act of heroism that took place on Sept. 8, 2004. With the help of a friend, Higgins saved a stranded woman from raging flood waters as she crouched on the cab of a pickup truck near the town of Biltmore. Higgins, who spent 22 years in the N.C. National Guard, called a fellow Guard retiree and asked him to bring his boat. When they located the woman, four to 10 feet of fast-moving water prevented them from reaching her at first. Higgins jumped out of the boat and plucked the woman from the truck bed after her 9-hour ordeal. Flood waters flipped her car that morning, but the 68-year-old woman managed to swim and tumble her way to a tractor trailer, where she held on at least six hours until she was able to climb onto the roof of a pickup, then down to its bed as the water receded.
Mark Higgins has been in corrections since 1989 where he joined the department as a correctional officer at Craggy. He serves on the Prison Emergency Response Team (PERT) in addition to his lead officer duties.
Assistant Superintendent Wade Hatley said he is not surprised that his lead officer put himself in harm's way to help someone. He said Higgins takes the same attitude in his PERT duties. "When you call him, he'll be there."
Governor Michael F. Easley has declared May 2-6 as Correctional Officers Week in observance of the important public safety work done by more than 11,000 correctional officers in North Carolina's 76 prisons.
# # #