Betty Holland named Correctional Officer of the Year
<![if !vml]>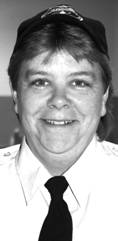 <![endif]>APEX- Betty Holland, of Johnston Correctional Institution, was recognized today by the Division of Prisons as one of 11 Correctional Officers of the Year.
Holland is a correctional food service officer supervising first shift inmates working in the kitchen at Johnston Correctional Institution.
She is recognized for her actions on the scene of two separate accidents along U.S. 70 in Johnston County. On Nov. 23, 2004, Officer Holland came to the aid of two women after their can hit a guardrail. Holland ensured the ladies were okay and remained with them until police and paramedics arrived.
On Jan. 10, 2005, Holland was on her way to work when she witnessed an explosion as she approached Interstate 95. A fuel tanker was burning and she saw a woman dragging a man to safety in the highway median. Holland ran to help and found the man alert and responsive, but badly burned. She kept communicating with him and kept him calm until paramedics arrived. The man later died at a hospital.
"For the man severely burned, her voice may have been the last voice he remembered," said Karl Lee, Holland's supervisor who nominated her. "Officer Holland exhibited an act of heroism that was above and beyond the call of duty. She exhibits these same traits in her daily work at Johnston Correctional Institution when dealing with inmates and staff."
Holland is a resident of Pine Level. She graduated from Beddingfield High School in Wilson and Wilson Technical Community College. She has been a correctional officer since 2003 and is a former volunteer rescue squad member in Johnston County.
Governor Michael F. Easley has declared May 2-6 as Correctional Officers Week in observance of the important public safety work done by more than 11,000 correctional officers in North Carolina's 76 prisons.
# # #