Kenneth Maney named Correctional Officer of the Year
<![if !vml]>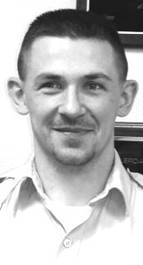 <![endif]>APEX- Kenneth Maney, a correctional officer at Marion Correctional Institution, today received recognition as one of 11 Correctional Officers of the Year. Correction Secretary Theodis Beck, Prisons Director Boyd Bennett, colleagues, friends and family honored the officers at a ceremony where the officers received a framed certificate.
Maney was nominated for the honor for an act of heroism. He was off duty and doing some shopping with his wife in Asheville when he heard a woman scream. Several people yelled that the woman had been mugged so Maney took off after the alleged mugger. He ended up chasing the man down an embankment and across five lanes of traffic before he was eventually able to grab the man and hold him until police arrived.
A police officer told Maney that the man was a suspect in several muggings in the area and was becoming bolder and more violent with each crime. The woman was thankful to get her belongings back and wanted to take Maney and his wife out to dinner. The officer politely declined.
"It was nothing," Maney said. "I didn't do anything that anyone else wouldn't have done."
Marion CI's correctional administrator Sid Harkleroad expressed how proud he was of Officer Maney's actions. "Officer Maney's efforts in this particular situation were heroic, even though he tries to downplay the events that occurred that day," he said.
Officer Maney has worked at Marion since September 2001. He primarily works in transportation taking inmates out to court or supervising them during medical visits. In addition to his regular duties, Maney is a member of the Prison Emergency Response Team.
Governor Michael F. Easley has declared May 2-6 as Correctional Officers Week in observance of the important public safety work done by more than 11,000 correctional officers in North Carolina's 76 prisons.
# # #