Gevel Massenburg named Correctional Officer of the Year
<![if !vml]>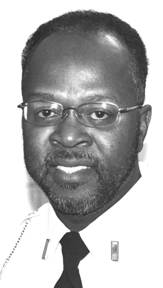 <![endif]>APEX – Gevel Massenburg, a correctional lieutenant and shift commander at Franklin Correctional Center near Bunn, today was recognized as one of 11 Correctional Officers of the Year. Correction Secretary Theodis Beck, Prisons Director Boyd Bennett, colleagues, friends and family honored the officers at a ceremony where the officers received a framed certificate.
Massenburg is a dedicated, caring, team-playing professional, according to Selma Townes, superintendent at Franklin Correctional Center.
"He has a dedication to duty that puts him to work in types of situations, including emergencies," Townes said. "He accepts all assignments with complaint and promptly completes those tasks."
Massenburg's concern for the welfare of his staff and the inmate population is demonstrated in both his loyalty and management skills, Townes said.
"In one instance, Lt. Massenburg volunteered on a day off to transport staff during inclement weather," she said. "He has served as shift commander in the extended absence of the captain, and has helped reduce overtime despite a staff shortage.
"Because of his positive attitude and promotion of professionalism, Franklin Correctional Center is a better and safer environment for staff and inmates alike.
A graduate of Gold Sand High School in Louisburg, Massenburg began working at Franklin Correctional Center in 1990 as a correctional officer, advancing to sergeant in 1996 and then to lieutenant in 2000. He also served 21 years in the North Carolina National Guard.
Gov. Michael F. Easley has declared May 2-6 as Correctional Officers Week in observance of the important public safety work done by more than 11,000 correctional officers in North Carolina's 76 prisons.
# # #