Dannie Stewart named Correctional Officer of the Year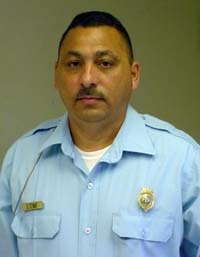 APEX- Dannie Stewart, a correctional officer at Robeson Correctional Center, was recognized today by the Division of Prisons as one of 11 Correctional Officers of the Year.
Stewart is a second-shift officer who can work any post in the prison facility. Since coming to work at Robeson Correctional Center in 1999, Stewart has only missed one day of work.
Sgt. Anthony Gerald, his supervisor, says Stewart works well with little or no supervision and frequently fill-in on extra shifts when needed.
"He is willing to listen to an inmate's problems and try to help solve them," said Gerald.
Stewart also helps train the prison's new officers. "He always encourages other officers to improve," said prison superintendent Sandra Thomas. "He always sets a good example."
Stewart is a resident of Lumberton and a graduate of Lumberton Senior High School and City Colleges of Chicago. He is currently pursuing an information systems degree at Robeson Community College.
Governor Michael F. Easley declared May 2-6 as Correctional Officers Week in observance of the important public safety work done by more than 11,000 correctional officers in North Carolina's 76 prisons.
# # #