Rita Woods named Correctional Officer of the Year
<![if !vml]>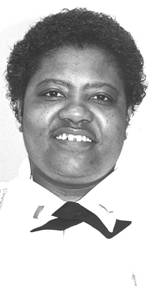 <![endif]>APEX – Rita Woods, a correctional lieutenant at Tyrrell Prison Work Farm near Columbia, today received recognition as one of 11 Correctional Officers of the Year. Correction Secretary Theodis Beck, Prisons Director Boyd Bennett, colleagues, friends and family honored the officers at a ceremony where the officers received a framed certificate.
Woods' dedication to duty makes her stand out, according to Anthony Hathaway, superintendent of Tyrrell Prison Work Farm. She was first assigned to the Tyrell unit in 1995 as a correctional sergeant.
"Shortly after she got here, she was appointed Community Work Program sergeant," Hathaway said. "Then, in 2004, she was promoted to lieutenant, but retained her duties as a sergeant and added the responsibilities of being grievance coordinator."
Prior to working at Tyrrell Prison, Woods was assigned 1990-95 to Washington Correctional Center, where she helped mentor new female officers and ensured the integrity of the unit's benevolent fund.
"She ensured that every staff member who was sick or who had family sickness or death, knew that the employees at Washington Correctional Center cared about them," Hathaway said.
He said Woods' work ethic is exemplary.
"Lt. Woods never would leave the unit knowing that it was under-staffed or her work not completed," Hathaway said. "She is dedicated to the effective functioning of Tyrrell Prison Work Farm and to the operation of second shift
Woods is a graduate of Creswell High School and Elizabeth City State University. She also has a certificate from Community College of the Albemarle.
Gov. Michael F. Easley has declared May 2-6 as Correctional Officers Week in observance of the important public safety work done by more than 11,000 correctional officers in North Carolina's 76 prisons.
# # #