Mahala Burch named 2005 Probation/Parole Officer of the Year
<![if !vml]>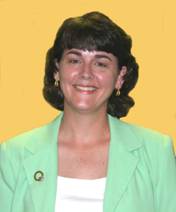 <![endif]>RALEIGH – Mahala Burch has been named one of the eight Probation, Parole and Community Supervision Officers of the Year in North Carolina. Burch, an intensive case officer in Halifax County, was selected for her work ethic and for serving beyond the call of duty.
As an intensive case officer, Burch makes numerous in-person visits with offenders, often conducting searches of their residences, revealing large quantities of drugs that would have been sold and hundreds dollars in cash generated from drug sales.
In an extraordinary act, Burch helped law enforcement officers quickly resolve an armed robbery after hearing of their search for the suspects over her mobile radio. On routine business at the time, Burch was at the same location as the suspect, whom she detained until sheriff deputies arrived.
Burch has been District 6A coordinator for the State Employees Combined Campaign since 1997, with her efforts being recognized by Secretary Theodis Beck. She also influences the design of criminal justice instruction at Halifax Community College, whose trustees appointed her to the school's Criminal Justice Advisory Board.
"She has made a significant impact on her unit," said Burch's supervisor, Unit 506AB Chief Probation/Parole Officer Doug Hardy. "Officer Burch has time and time again gone beyond the call of duty in carrying out her responsibilities as an intensive officer, as well as frequently assisting law enforcement agencies."
The wife of a Halifax County Sheriff's Department investigator and the mother of three boys, Burch is very involved in her sons' activities. She is active in PTA and in the Police Benevolent Association.
Burch began her college studies at NC State University and completed the requirements for a criminal justice degree in 1989 from NC Wesleyan College. In 1991, Burch began working in District 6A-Unit 506AB as a probation/parole officer, and was named intensive case officer there in 1998.
Gov. Michael Easley has proclaimed July 17-23 as the 2005 Probation, Parole and Community Supervision Officers' Week to recognize the more than 2,000 community corrections officers who supervise more than 118,000 criminal offenders in North Carolina communities. The eight officers of the year will be recognized July 20 in a ceremony in Apex.
###
For a digital picture of Burch, contact the Public Affairs Office at 919-716-3700.