Carl Craven recognized as 2005 Probation/Parole Officer of the Year
<![if !vml]>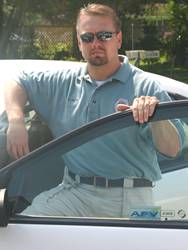 <![endif]>RALEIGH – Officer Carl Craven has been named one of the eight Probation, Parole and Community Supervision Officers of the Year. Craven, an intensive case officer in Pender County, was selected for high productivity, significant impact on the sex offender control program and exceptional work.
In February 2004, Craven assumed the responsibility of supervising all sex offender cases in Pender County as a new Sex Offender Control Program was being implemented statewide. This responsibility requires traveling all over the county to maintain frequent face-to-face contacts with the sex offenders under his supervision to ensure that they are following the rules and attending treatment. Craven also was instrumental in recruiting a sex offender treatment provider for the county.
In addition, Craven recently volunteered to coordinate a Community Corrections team to conduct routine searches on eligible offender cases. Under his direction, the searches conducted by the team have been very effective and have resulted in the seizure of illegal drugs and weapons.
"Officer Craven regularly seeks new challenges having requested and successfully completed training to be an instructor in general supervision, pepper spray use and unarmed self defense," said Jean Walker, chief probation/parole officer. "He also has served on the electronic house arrest response team, has been a school partnership officer and has regularly volunteered to assist other officers with arrests and retrievals of captured absconders."
A Pender County native, Craven started his career in corrections in 1995 as a program assistant at Pender Correctional Institution. A few years later he made the transition to Community Corrections by becoming a surveillance officer and eventually a probation officer.
Governor Michael Easley has proclaimed July 17-23, 2005 Probation, Parole and Community Supervision Officers' Week in recognition of more than 2,000 community corrections officers who supervise more than 118,000 criminal offenders in North Carolina communities. The eight officers of the year will be recognized July 20 in a ceremony in Apex.
# # #
For a digital picture of Craven, contact the Public Affairs Office at (919) 716-3700.