Dawn Dye recognized as 2005 Probation/Parole Officer of the Year
RALEIGH – Officer Dawn Dye has been named one of the eight Probation, Parole and Community Supervision Officers of the Year. Dye, a probation/parole officer in Wake County, was selected for high productivity, significant impact on the house arrest program and exceptional work.
<![if !vml]>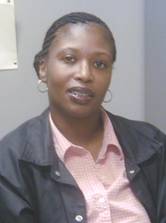 <![endif]>Dye has specialized in supervising offenders on electronic house arrest since November 2002. She takes that role very seriously by ensuring that the monitoring devices are working properly and quickly dealing with offenders who have violated their house arrest. She says it makes her proud when she can help an offender turn their life around and she can guide them down a more productive path.
Everyday, Dye supervises approximately 30 offenders assigned to house arrest by the courts. Those offenders live predominantly in the northern part of Wake County including North Raleigh, Wake Forest, Morrisville and some in downtown Raleigh.
"Dye not only helps other house arrest officers, but all staff and can be expected to step in at a moments notice to handle anything that needs to be taken care of," said Catherine Eagles, chief probation/parole officer.
In addition to Dye's professionalism at work, she's very involved in civic activities. She works with at risk female youth through Family Youth Incorporated and she helps feed the homeless. She speaks to high school students on career day and often volunteers for special projects such as serving on a disaster response team, fundraising for Special Olympics and representing the department at Cary's Law Enforcement Day.
Dye started her career in corrections in 1994 as a correctional officer at North Carolina Correctional Institution for Women. A few years later she made the transition to Community Corrections by becoming a probation/parole officer.
Governor Michael Easley has proclaimed July 17-23, 2005 Probation, Parole and Community Supervision Officers' Week in recognition of more than 2,000 community corrections officers who supervise more than 118,000 criminal offenders in North Carolina communities. The eight officers of the year will be recognized July 20 in a ceremony in Apex.
# # #
For a digital picture of Dye, contact the Public Affairs Office at (919) 716-3700.