Garry Garner named 2005 Probation/Parole Officer of the Year
<![if !vml]>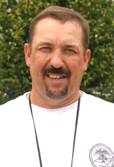 <![endif]>RALEIGH – Garry Garner has been named one of the eight Probation, Parole and Community Supervision Officers of the Year in North Carolina. Garner, an intensive surveillance officer in Cumberland County, was selected for a contribution to the department that was above and beyond the call of duty, high productivity, having a significant positive effect on a program and exceptional work.
Garner, who was named Judicial District 12 Officer of the Year for 2005, often "seems to be in the right place at the right time" and is the district's "go-to person" when help is needed, according to District Manager Wayne Marshburn.
On at least two occasions, Garner has assisted local law enforcement with traffic and crowd control at automobile collision scenes, receiving recognition for his aid from chief officers. In one of the collisions, which involved four vehicles, Garner was the first official on the scene and ensured the dispatch of emergency medical assistance.
Garner also helped law enforcement officers keep a sex offender suspect detained. Garner informed police that a man arrested on charges of exploiting a minor and taking indecent liberties with a minor was a wanted probationer. The information resulted in a bond that the suspect could not make.
Internally, Garner readily assists with arrests and searches, is constantly on the lookout for absconders and often volunteers for extradition trips.
"Garry is a pleasure to work with, has a positive attitude and is always willing to help," said his supervisor, Chief Probation/Parole Officer Terry Paige. "He is often called on by team members for help, does his job without complaint and needs very little supervision. He is respected in the community among the different law enforcement agencies and highly respected by his co-workers."
A military veteran, Garner served 10 years in the US Marine Corps and 10 years in the US Army. He has an associates degree in criminal justice from Fayetteville Technical Community College and has studied at Fayetteville State University. Garner began working for the Department of Correction 1996 as a correctional officer at Hoke Correctional Institution in Raeford, and was named an intensive surveillance officer in 1998.
Gov. Michael Easley has proclaimed July 17-23 as the 2005 Probation, Parole and Community Supervision Officers' Week to recognize the more than 2,000 community corrections officers who supervise more than 118,000 criminal offenders in North Carolina communities. The eight officers of the year will be recognized July 20 in a ceremony in Apex.
###
For a digital picture of Garner, contact the Public Affairs Office at 919-716-3700.