Courtney Stewart named 2005 Probation/Parole Officer of the Year
<![if !vml]>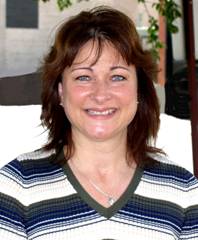 <![endif]>RALEIGH – Courtney Stewart has been named one of the eight Probation, Parole and Community Supervision Officers of the Year in North Carolina. Stewart, a surveillance officer in Judicial District 22 in Iredell County, was selected for high productivity and exceptional work.
Stewart was cited for an exemplary attitude and work ethic in a unit that is staffed mostly by first level probation/parole officers. The statement nominating her for the award said Stewart demonstrates "a true team concept of supervision."
With an "I want to help" attitude, Stewart is supervising two absconder caseloads, two intensive caseloads and 25 community cases from the caseload of an unfilled position. She conducts curfew checks, arrests violators and absconders, performs drug screens and office visits, and checks addresses for first level officers. Additionally, Stewart has provided approximately 100 hours of training as the judicial division's certified instructor.
"Officer Stewart is a model of what a true surveillance officer should be, according to the new supervision strategies established by the division," said Chief Probation/Parole Officer Phil Keller. "Courtney is a professional and dedicated employee who deserves the distinction of Officer of the Year."
Stewart, who has experience as a municipal police officer, began working with the Department of Correction as a correctional officer at Davidson Correctional Center in Lexington in 1994, and was named surveillance officer in Judicial District 22 in 2000. She has a degree from Central Piedmont Community College.
Gov. Michael Easley has proclaimed July 17-23 as the 2005 Probation, Parole and Community Supervision Officers' Week to recognize the more than 2,000 community corrections officers who supervise more than 118,000 criminal offenders in North Carolina communities. The eight officers of the year will be recognized July 20 in a ceremony in Apex.
###
For a digital picture of Stewart, contact the Public Affairs Office at 919-716-3700.