Bob Burton to lead Union Correctional Center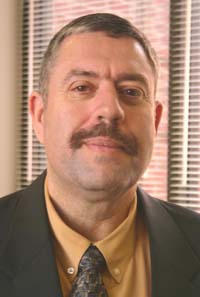 MONROE – Bob Burton, a 24-year veteran in the NC Department of Correction, has been named Union Correctional Center superintendent, according to Boyd Bennett, Division of Prisons director. He succeeds Rocky Nance, who has retired.
As superintendent for the minimum custody unit near Monroe, Burton will oversee the management of all of the prison's operations and programs, including approximately 30 employees and 85 male inmates. He has been assistant superintendent at Rowan Correctional Center near Salisbury since 1993.
Burton began his career in the Department of Correction in 1981 as a correctional officer at Piedmont Correctional Institution, where he rose to sergeant, transferred to the Iredell prison unit and then moved to Rowan Correctional Center, where he was promoted to assistant superintendent.
"In addition to extensive experience with our minimum custody facilities, Bob has very good communication and education skills," Bennett said. "It's really reassuring to have people like Bob when you need to fill such critical positions."
People have made Burton's career exciting, he said.
"I like working with people, helping them improve," he said. "I especially like teaching them."
Burton has a bachelor's degree in law enforcement and criminal justice from Western Carolina University. In spare time he hunts, goes fishing and travels.
Burton is married and has two sons. He and his wife reside in Salisbury.
Union Correctional Center
Union Correctional Center, in Monroe, is a minimum security prison for adult males.
In the FY 1998-99 budget, the General Assembly changed Union and Stanly Correctional Centers from medium to minimum security prisons.
Union was one of 51 county prisons for which the state assumed responsibility with the passage of the Conner bill in 1931. It was one of 61 field unit prisons renovated or built during the late 1930s to house inmates who worked building roads. The prison's original housing dormitory remains in use. In 1973, a vocational building was added. In 1985, dormitories and the dining hall were renovated and education and recreation buildings were constructed.
Anson and Stanly community colleges work with the prison to provide vocational classes. Anson offers a class in welding and Stanly offers bricklaying. There are also classes for adult education and preparation for the GED tests.
Inmates not assigned to education programs work for Department of Transportation road crews or unit duty jobs such as food service, labor pool, maintenance, housekeeping, clothes house clerks, recreation clerk, library clerk, canteen operator or barber.
# # #