George Currie named Central Region Director
<![if !vml]>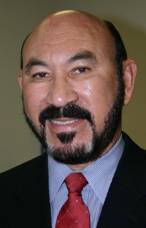 <![endif]>RALEIGH – George Currie, a 34-year veteran of the NC Department of Correction, will start his new role March 1 as Central Region Director for the Division of Prisons, according to division Director Boyd Bennett.
Currie will oversee the management of all operations of the 14 prisons in the nine-county region, which is in the central part of the state.
A certified public manager who has a bachelor's degree in business management from Shaw University, Currie has steadily risen through the ranks in the department. He began his career as a correctional officer at Central Prison in 1971, and then went on to work at the Orange and Triangle (now closed) prison facilities, and the old and new Polk youth centers. He was most recently correctional administrator at Polk Youth Institution.
"George is a very people-oriented person, whether he's dealing with staff or inmates," Bennett said. "He enjoys working with people, and it shows in his desire to bring about positive results through team leadership and project ownership. It's great to have George to name to this position."
The Lee County native is married and has two children. When he has time, Currie enjoys jogging and yard work.
# # #