Fountain Correctional Center gets new superintendent
<![if !vml]>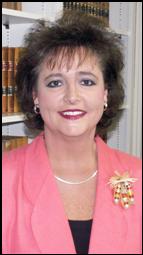 <![endif]>ROCKY MOUNT – Lynn N. Sanders is the new superintendent at Fountain Correctional Center for Women, a minimum custody facility that houses approximately 550 women and has a staff of about 250.
Sanders' promotion from assistant superintendent for programs was announced by Boyd Bennett, director of the NC Department of Correction's Division of Prisons. She succeeds Jimmy Horton, who recently retired. Bennett said Sanders will lead Fountain into the future with exceptional experience, people skills and integrity.
"She uses very good listening and teamwork skills, and treats people with fairness and honesty," he said. "Combine those qualities with her 24 years in corrections, and we have a superintendent in whom we have great confidence."
Sanders began her career at Fountain in 1981, when it was a correctional center for youthful male offenders ages 16-19. She rose to program assistant II there in 1985, and was promoted to program supervisor at Raleigh Correctional Center for Women in 1990. Sanders returned to Fountain in 1993 as the diagnostic center director, and was promoted to assistant superintendent in 1999.
Improved staff retention is Sanders' major goal as superintendent. "I want to make sure people feel their jobs are important, because they are," she said. "The correctional officer is the most important position we have – it's the front line – and they want to know that they are doing a good job."
Sanders has completed the department's Correctional Leadership Development Program and is a certified general instructor. The Johnston County native has an associate's degree in criminal justice and juvenile delinquency from Wilson Community College.
Married to Wendell Sanders, an HVAC mechanic at Johnston Correctional Institution, they have a son, Kyle, and a daughter, Kelly. The family enjoys going to the lake.
# # #
Editors: A digital copy of the photograph in either color or black-and-white is available for by calling 919.716.3700.