Bobby Harless named superintendent at Wilkes prison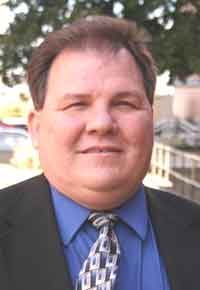 NORTH WILKESBORO – Bobby Harless, an 18-year veteran in the NC Department of Correction, has been named Wilkes Correctional Center superintendent, according to Boyd Bennett, Division of Prisons director. Harless succeeds Eddie Shore, who retired.
As superintendent for the minimum custody unit near North Wilkesboro, Harless will oversee the management of all of the prison's operations and programs, including approximately 60 employees and 260 male inmates. He has been assistant superintendent for the past five years, preceded by service as a correctional officer and correctional sergeant.
"I'm very glad that Bobby was available for this position," Bennett said. "He already knows the people and Wilkes center itself inside and out, he's a people person who can communicate with anyone and he leads by example," Bennett said.
Harless has enjoyed his career in the Department of Correction.
"It challenges you, and it's never boring," he said.
Harless has two degrees in criminal justice, an associate's from Wilkes Community College and a bachelor's from Appalachian State University. Loving to play golf and spend time with his family, Harless is married and has two sons. They reside in North Wilkesboro.
Wilkes Correctional Center
Wilkes Correctional Center, near North Wilkesboro, is a minimum security prison for adult males.
Wilkes was one of 51 county prisons for which the state assumed responsibility with the passage of the Conner bill in 1931. It was one of 61 field unit prisons renovated or built during the late 1930s to house inmates who worked building roads.
The prison's original dormitory is still in use. A modular dormitory added in 1977 has since been closed.
The General Assembly provided three 50 bed dormitories for Wilkes as part of the $87.5 million prison construction program authorized in 1993.
Wilkes Community College works with the prison to provide classes in computers and life skills training. Classes for adult education and preparation for the GED tests are available. Inmates may also take a course on substance abuse and drug abuse education programs.
Inmates work in several jobs. They may be assigned to community work squads, Department of Transportation road crews or as maintenance or kitchen help at the prison. Inmates nearing parole may participate in work release, leaving the prison for part of the day to work for a business in the community.
# # #