Administrator named to lead new Bertie Correctional Institution
<![if !vml]>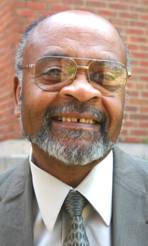 <![endif]>WINDSOR- Anthony Hathaway, a veteran corrections professional, will serve as administrator of Bertie Correctional Institution, which is currently under construction. The appointment is effective immediately, according to Boyd Bennett, director of the Division of Prisons.
Hathaway will oversee the remainder of the prison's construction, which is expected to be completed in July 2006. He will also be responsible for hiring the more than 400 employees who will staff the 1,000-cell adult male close custody prison. Once Bertie CI is opened, Hathaway will be in charge of all of the new facility's operations.
"Anthony Hathaway has more than 30 years experience working in prisons in a variety of roles," said Bennett. "He's managed several prisons successfully. I'm confident he's the right person to open this major new facility.
Hathaway started his career in corrections in 1972 as a correctional officer. He advanced through the ranks holding such positions as program assistant and program director at several prisons and in the Eastern Area Administrative Office. He served as superintendent at Martin and Washington Correctional Centers and has been superintendent at Tyrrell Prison Work Farm since it opened in 1998.
"I am really looking forward to this new challenge," said Hathaway. "It will take a lot of teamwork to run this prison and I look forward to putting together a team of people who will want to be involved and have some ownership in the outcome."
An Edenton native, Hathaway graduated from D.F. Walker High School. After earning a bachelor's degree in social studies from Elizabeth City State University, he taught at Walker for a year. He attends Kadesh A.M.E. Zion church where he serves as preacher steward, chairman of the Steward Board and the Kadesh-Chowan Heritage Foundation. He's also a member of the historical committee, a youth class leader and sings in two choirs. In addition, he's a member of the Columbia Rotary Club, the board of directors for Tyrrell Community Development Corporation and the board of directors for Smart Start. Family time, cooking, fishing, gardening and pitching horse shoes are his favorite activities.
Hathaway is the son of Rev. & Mrs. Anthony Hathaway Jr. of Edenton. Hathaway introduced his oldest sister, Elizabeth Mathews to corrections. She is currently an assistant director of nursing for prisons in eastern North Carolina. Hathaway has a son and three daughters.
Editors: A digital photo of Hathaway is available via e-mail by calling (919) 716-3700.
# # #