Hines named superintendent at Wayne Correctional Center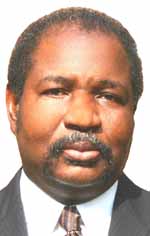 GOLDSBORO – Robert E. Hines has been named superintendent at Wayne Correctional Center, prisons director Boyd Bennett announced today. Hines has served as superintendent at Pamlico Correctional Institution in Bayboro since October of 2001. This move brings him back to work in his hometown of Goldsboro.
Hines is no stranger to Wayne Correctional Center, since he served there as assistant superintendent for custody and operations from 1996 to 2001. He has also worked at Greene Correctional Center and Eastern Correctional Institution, both in Maury.
Hines is a native of Wayne County and a graduate of Rosewood High School and Wayne Community College. He lives in Goldsboro with his wife Mary, a case analyst at Neuse Correctional Institution, and his two sons.
In his free time, he enjoys officiating high school baseball, basketball and football games across eastern North Carolina. He also serves on the executive board of the North Carolina Correctional Association.
Wayne Correctional Center is a medium-security prison housing about 415 inmates. It is home to the largest substance abuse treatment program in the state prison system.
Hines replaces Carla O'Konek Smith as superintendent at Wayne CC. O'Konek-Smith was recently named superintendent at Eastern Correctional Institution.
# # #
Editors: A digital photo of Robert Hines is available by calling the Public Affairs Office at 919-716-3700