Travis Outlaw named superintendent at Duplin Correctional Center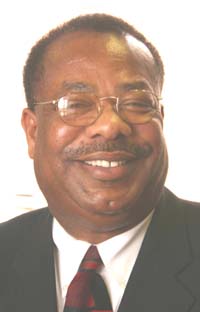 KENANSVILLE – Travis Outlaw, a 30-year veteran in the NC Department of Correction, has been named Duplin Correctional Center superintendent, according to Boyd Bennett, Division of Prisons director.
As superintendent for the minimum custody unit near Kenansville, Outlaw will oversee the management of all of the prison's operations and programs, including approximately 90 employees and 325 male inmates. He was most recently assistant superintendent at Wayne Correctional Center.
Outlaw began his career in the Department of Correction in 1975 as a correctional officer at Pender Correctional Institution, where he rose to lieutenant, and then transferred to Eastern Correctional Institution, where he was named a unit manager. Before going to Wayne, Outlaw was an assistant superintendent at the Duplin prison.
"It really pleases me to be able to name someone like Travis to lead one of our units," Bennett said. "He knows our minimum custody system, and he is able to motivate his staff with communication and team-building skills."
Outlaw is glad to be returning to Duplin.
"It's one of the best places where I've worked, and that's because they have a great staff," Outlaw said. "It's a wonderful opportunity."
Outlaw has a bachelor's degree in political science from St. Augustine's College and is a certified public manager. In spare time, he goes fishing, buys and repairs houses for rental, and serves as a trustee
at St. James AME Zion Church.
Outlaw is married and has four children – a son and three daughters. The family resides in Goldsboro.
Duplin Correctional Center
Duplin Correctional Center, near Kenansville, is a minimum security prison for adult males.
Duplin Correctional Center was built in the 1920s. A 1928 fire destroyed the prison. The prison was rebuilt and reopened in 1939 as a medium security prison.
Duplin was one of 51 county prisons for which the state assumed responsibility with the passage of the Conner bill in 1931. It was one of 61 field unit prisons renovated or built during the late 1930s to house inmates who worked building roads.
In the early 1950s, Duplin became a minimum security prison for adult males who were put to work on Department of Transportation road crews.
In 1964, the prison housed adult males with physical handicaps. Then in the early 1970s, the prison began housing inmates sentenced as committed youthful offenders. In 1982, Duplin became a minimum security prison for adult males.
A 1930s dormitory has been renovated for use as classrooms. A modular dormitory erected in 1978 has since been closed.
Lawmakers provided a 50 bed dormitory as part of the $28.5 million emergency Prison Facilities Development program authorized in 1987. The 50 bed dormitory opened in 1988.
Another 200 beds were provided as part of the $55 million prison construction program authorized in 1989. Four 50 bed dormitories, a dining hall and multipurpose building were completed in 1992. The old dining hall was renovated for use as offices and a chapel.
Inmates nearing the end of their imprisonment may participate in work release, leaving the prison for the part of the day to work for a business in the community. They may also work in maintenance or as kitchen help at the prison.
As early as 1966, James Sprunt Community College was providing a Saturday morning reading course at the prison. Opportunities now include adult basic education and vocational programs in electrical wiring, masonry, auto mechanics and food service.
# # #