New community corrections manager has 'best' intentions
<![if !vml]>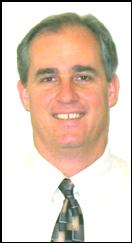 <![endif]>PITTSBORO -- Tommy Perry has "the best" intentions for the Division of Community Corrections' Judicial District 15B, which covers Chatham and Orange counties.
Perry recently became district manager, having served as probation/parole supervisor in Chatham County since 2002. He is in charge of 35 employees, 27 of whom supervise approximately 1,500 offenders.
"I want this to be the best district in Community Corrections," he said. "I want us to provide the best supervision and the best help for the offenders, while providing the best protection for the public. We need to remember that we are supposed to help people, and we have a lot of good personnel to do that."
In working with his staff, Perry has demonstrated a strong work ethic, a positive attitude and such other leadership skills as teamwork, communication and encouragement.
"I will make sure they all know that we are working together," he said.
Perry graduated from UNC-Wilmington with a bachelor's degree in sociology and criminal justice. He began working in corrections as a probation/parole officer in 1986 in Siler City. In 1989, Perry was promoted to intensive probation officer in Chatham and Orange counties, and then supervisor in Hillsborough in 2000 before becoming a supervisor in Chatham County.
The Chatham County native is married and has a daughter, age 13. He enjoys family time, yard work and other outside activities.
# # #
Editor: Digital copies of the photograph in both color and black-and-white are available by calling 919.716.3700.