Tyrrell Prison Work Farm Superintendent Named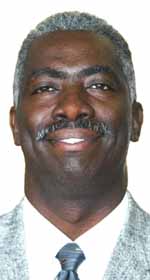 COLUMBIA, NC – Renoice Stancil has been named the new superintendent for Tyrell Prison Work Farm. The announcement was made by Boyd Bennett, director of the NC Department of Correction Division of Prisons. Bennett said Stancil, previously assistant superintendent at Eastern Correctional Institution in Greene County, brings a wealth of experience and training to the job.
"Renoice is a take-charge, take-action leader, motivator and communicator who ensures his employees grow as professionals," Bennett said. "We are pleased to name him to this position."
As the new Tyrell Prison Work Farm superintendent, Stancil will be in charge of approximately 200 employees and more than 560 male, minimum custody inmates. Stancil is looking forward to his new assignment.
"I like the prospect of working with the staff as a team player and in a leadership role," he said. "I want to help the staff with their training and motivate them to fully understand and utilize their value to the department."
After graduating with a Bachelor of Science degree in psychology in 1981 from Fayetteville State University, the Bertie County native got a job the same year as a correctional officer at Caledonia Correctional Institution. In 1985, Stancil transferred to Eastern Correctional Institution, where he advanced through the ranks to become assistant superintendent in August 2000.
He succeeds Anthony Hathaway, who was named as administrator for the new Bertie Correctional Institution that is under construction near Windsor.
The Greenville resident is married and has one daughter. Stancil is a member of Beautiful Zion Baptist Church in Lewiston and enjoys chess and golf.
###
Editors: A digital photo of Stancil is available via e-mail by calling (919) 716-3700.