Talbert named superintendent at Hyde Correctional Institution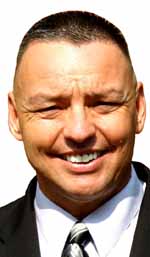 SWAN QUARTER Ė Wayne Talbert has been named superintendent at Hyde Correctional Institution, prisons director Boyd Bennett announced today. Talbert has served as superintendent at Sanford Correctional Center since August 2003.
Talbert began his corrections career in 1982 at Guilford Correctional Center. He has also served at prison units in Caswell, Alamance and Rockingham counties.
Talbert is a native of Alamance County and a graduate of Burlington Cummings High School and Alamance Community College. He earned his bachelorís degree in criminal justice at North Carolina Central University. He is also a graduate of the Correctional Leadership Development Program offered by the Department of Correction.
Talbert will be the third superintendent at Hyde Correctional Institution, which opened in 1993. He replaces Derrick Wadsworth, who retired in May. David Chester was the prisonís first superintendent.
Hyde Correctional Institution houses 528 male inmates in medium custody and an additional 72 in a minimum-security satellite unit that opened in 1999.
# # #
Editors: A digital photo of Wayne Talbert is available by calling the Public Affairs Office at 919-716-3700.