Brian Marley named Correctional Officer of the Year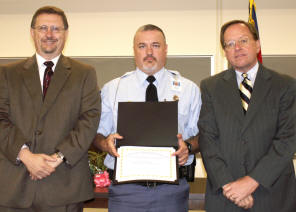 TROY – Sgt. Brian Marley of Southern Correctional Institution was recognized today by Director Boyd Bennett and the Division of Prisons as one of 10 Correctional Officers of the Year.
Marley is an 18-year veteran of the Division of Prisons. In his many years at Southern CI, he has worked virtually every post in the prison. He occasionally serves as an acting unit manager when needed. His managers speak highly of his leadership and mentoring skills.
"He ensures responsibility by monitoring subordinate staff, providing feedback, evaluations and taking appropriate corrective actions to supervise staff and inmates," said Capt. William Hayes in his nomination of Marley.
Marley has also served for 21 years as a volunteer firefighter with the Robbins Fire Department. He is a native of Robbins, where he has also served as president and vice-president of the Highfalls Elementary School PTA.
Southern Correctional Institution houses 480 female inmates in medium and close custody. A neighboring minimum-security unit houses about 200 male inmates.
Gov. Michael F. Easley has declared May 7-13 as Correctional Officers Week in observance of the important public safety work done by more than 11,000 correctional officers in North Carolina's 77 prisons.
# # #
Editors: A digital photo of Marley is available via e-mail by calling the Public Affairs Office at (919) 716-3700.