Charles Lofton named Correctional Officer of the Year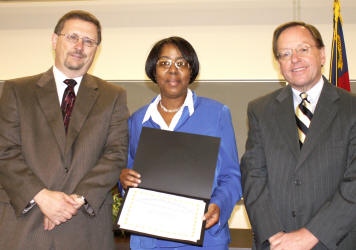 GOLDSBORO – Charles Lofton, a former correctional officer at Neuse Correctional Institution, was recognized today by Director Boyd Bennett and the Division of Prisons as one of 10 Correctional Officers of the Year.
Lofton, who died March 13 after an extended illness, was recognized posthumously and his family received his award.
He was recognized for his outstanding work performance over almost a decade at Neuse Correctional Institution in Goldsboro. As an officer, Lofton served in various locations throughout the prison, but was frequently posted in the prison operations center, or in its intake area to help process newly admitted misdemeanants into the prison system.
Lofton served as a correctional officer mentor, because his superiors knew they could count on him to properly lead and train new staff members.
Even through his last months on the job, as his health declined, Lofton was always able to handle his assignments and his work never faltered. One of his last wishes was to be buried in his uniform, which he always wore with pride.
Gov. Michael F. Easley has declared May 7-13 as Correctional Officers Week in observance of the important public safety work done by more than 11,000 correctional officers in North Carolina's 77 prisons.
# # #
Editors: A digital photo of Lofton is available via e-mail by calling the Public Affairs Office at (919) 716-3700.