Chris Senif named Correctional Officer of the Year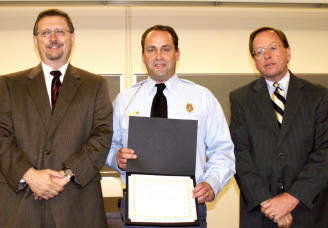 DURHAM –Correctional Officer Chris Senif of Durham Correctional Center was recognized today by Director Boyd Bennett and the Division of Prisons as one of 10 Correctional Officers of the Year.
Senif works on third shift at the minimum-security prison for men in Durham. He manages the facility's inmate drug testing program, insuring that each inmate it tested at least every 30 days. Prison managers believe his diligent work on the drug testing program has helped deter drug use by inmates at the facility.
Senif has been a correctional officer for three years, but has demonstrated knowledge and ability beyond his short tenure, said assistant superintendent William Tillman. "He has absorbed the multitude of procedures and policies at this center and excelled in their application," wrote Tillman in his nomination.
Senif is a Chapel Hill resident and a graduate of the University of Central Florida.
Gov. Michael F. Easley has declared May 7-13 as Correctional Officers Week in observance of the important public safety work done by more than 11,000 correctional officers in North Carolina's 77 prisons.
# # #
Editors: A digital photo of Senif is available via e-mail by calling the Public Affairs Office at (919) 716-3700.