New Community Corrections division chief named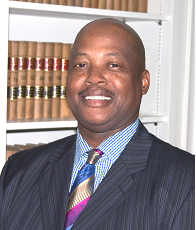 GREENVILLE – Cornell McGill, a 25-year corrections veteran, has been named chief of the Division of Community Corrections' Division 1, an area encompassing 32 eastern North Carolina counties.
McGill, previously assistant chief of the division, succeeds Glenn Mills, who was recently promoted to senior administrator in the Division of Community Corrections in Raleigh. In his new job, McGill is responsible for 556 probation and parole officers and staff members. Approximately 26,500 offenders are assigned by the courts for supervision in Division 1.
In announcing the appointment, Robert Lee Guy, director of Community Corrections, cited experience and leadership skills as key reasons for selecting McGill for the job.
"Cornell's hands-on experience in the field gives him personal insight into the profession of probation and parole," Guy said. "Additionally, Cornell has great communication skills and is very good at dealing with people."
Guy also noted that McGill was in the first class of the NC Department of Correction's Leadership Development Program.
McGill said maintaining quality personnel to ensure public safety is a top priority in the new job.
"I plan to make sure we enhance public safety, and that our focus is always on public safety," he said.
Prior to beginning his career in corrections, McGill was a child support enforcement agent in Craven County. In 1982, he was named a probation officer in Beaufort County, and was promoted in 1988 to unit supervisor in Martin and Washington counties. McGill was named judicial district manager of Community Corrections District 2 in 1993, and assistant division chief in 1996.
McGill has a bachelor of science degree in history and government from St. Augustine's College. The Beaufort County resident has been on that county's community college board of trustees for 27 years, and he is active in his church, St. Paul Episcopal.
He and his wife, Evette, have two sons, ages 27 and 14. McGill also plays golf.
###
Editor: A digital copy of the photo is available in either color or black-and-white by calling 919-716-3700.