Community Corrections district manager named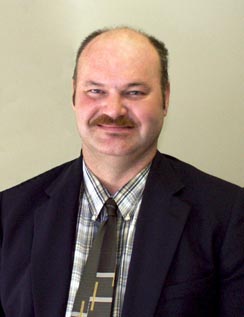 MURPHY – Dallas McMillan has been named manager of Judicial District 30 for the NC Department of Correction. The announcement was made by Robert Lee Guy, Division of Community Corrections director.
McMillan is responsible for probation and parole activities in a seven-county region, including Cherokee, Clay, Graham, Haywood, Jackson, Macon and Swain counties. The district has 40 officers and staff handling 2,000 offenders assigned for supervision by the courts.
An 18-year community corrections veteran, McMillan began his career as a probation/parole officer in 1988 in Mecklenburg County , where he advanced to electronic house arrest officer and intensive case officer. In 1995, he was named an intensive case officer in Gaston County , and he has been a chief probation/parole officer in Cleveland County , in District 27B, since 2001.
McMillan is a correctional instructor, a member of the division's emergency management team, and 2006 chair of the 4th Division of the NC Probation and Parole Association. He is active in the American Cancer Society/Relay for Life, and enjoys outdoors activities, especially kayaking/canoeing, hiking, hunting and fishing.
McMillan and his wife, Jennifer, have a 4-month old son, Connor.
He succeeds Debra Debruhl, who was recently promoted to assistant chief for the 4th Judicial Division.
"I am thrilled with this new opportunity," McMillan said. "I look forward to working with the officers and personnel in District 30, creating new and maintaining current positive relationships with my staff and the correctional, law enforcement and human service professionals of Western North Carolina ."
###