Michelle Fisher named Probation/Parole Officer of the Year
NEW BERN – Michelle Fisher, a probation/parole officer working in Craven County, was recognized today by Director Robert Lee Guy and the Division of Community Corrections as one of eight probation/parole officers of the year.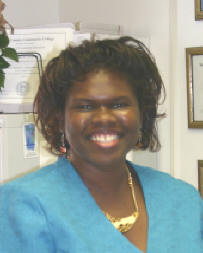 Fisher supervises a caseload of offenders in the New Bern and Havelock areas. She also serves as the Community Threat Group officer for Craven County, working closely with local law enforcement agencies to monitor the gang activity of those on probation and help curb gang activity in the community.
Fisher also serves as the electronic house arrest coordinator in her unit, monitoring and maintaining accountability for house arrest records and equipment.
Prior to joining community corrections, Fisher worked as a correctional officer at the state prison in Carteret County. She served as a surveillance officer for her first two years in Community Corrections.
In her community, Fisher volunteers for the local Boys and Girls Clubs, where she is developing a anti- drug and alcohol program for third, fourth and fifth graders. She also talks to teens about the perils of gangs and gang activity in their community.
Gov. Michael F. Easley has declared July 16-22, 2006, as Probation, Parole and Community Supervision Officer's Week in North Carolina in observance of the important public safety work done by more than 2,000 probation/parole officers working across North Carolina.
# # #
Editors: A digital photo of Fisher is available via e-mail by calling the Public Affairs Office at (919) 716-3700.