Freddie Malloy named Correctional Officer of the Year
WILMINGTON – For skillfully managing a major schedule change at New Hanover Correctional Center, retired Lt. Freddie Malloy has been named one of 10 North Carolina Correctional Officers of the Year.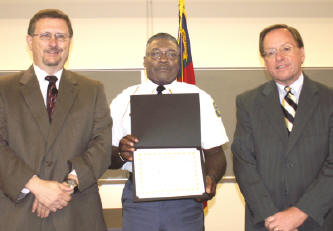 Boyd Bennett, director of the Division of Prisons, and Dan Stieneke, deputy secretary of the Department of Correction, made the presentation at a ceremony Tuesday morning in Apex.
Changing a prison's work shifts from 8 to 12 hours is challenging and problematic, but Malloy successfully completed the conversion shortly before his retirement on May 1, after a 26-year career in corrections. Working the implementation team, Malloy held numerous meetings, conducted briefings, visited other 12-hour shift prisons, and trained staff. He was also involved in making necessary revisions to procedures, post orders and security plans.
Meanwhile, Malloy continued to carry out his duties as officer-in-charge, segregation monitor and interview team member. Additionally, Malloy's participation was critical to the success of employee selection for the Women's Residential Facility.
In nominating Malloy for the award, New Hanover Correctional Center Superintendent Ennis Oates wrote, "He handles all tasks superbly ... As a result, the conversion to the 12-hour shift was implemented without problem. Actually, it has lifted morale among staff members."
Malloy has worked his entire corrections career at the New Hanover prison, beginning in May 1980. He was promoted to sergeant in 1983 and to lieutenant in 1991. Malloy is a member of the Shell Club and Hill's Chapel Church.
Gov. Michael F. Easley has declared May 7-13 as Correctional Officers Week in observance of the important public safety work done by more than 11,000 correctional officers in North Carolina's 77 prisons.
# # #
Editors: A digital photo of Malloy is available via e-mail by calling the Public Affairs Office at (919) 716-3700.