Robeson Correctional Center gets new superintendent
LUMBERTON – Gentry Jacobs, a 25-year NC Department of Correction veteran, has been named the new superintendent for Robeson Correctional Center, a minimum-security prison for men in Lumberton.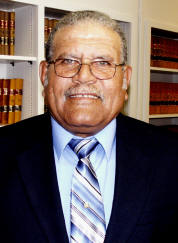 The announcement was made by Boyd Bennett, Division of Prisons director.
Jacobs has served as the assistant superintendent at Robeson CC for the past two and a half years. He began his corrections career in 1981 as a correctional officer in Scotland County, and was promoted through the ranks while working at Sandhills Youth Center and Hoke, Morrison and Scotland correctional institutions.
Jacobs is a graduate of Prospect High School in Maxton and a native of Red Springs. He received an associate's degree in business from Robeson Community College and holds an Advanced Criminal Justice Certificate from the State of North Carolina.
Jacobs succeeds Sandra Thomas, who was promoted to operations manager overseeing 13 prisons in the Division of Prisons South Central region.
###
Editors: A digital photo of Jacobs can be obtained by calling NCDOC Public Affairs at 919-716-3700.