Hannah Rowland to manage sex offender monitoring program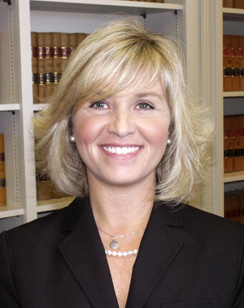 RALEIGH - Hannah Rowland has been named administrator of the state's new program that will use satellite-based monitoring to monitor certain sex offenders, Community Corrections Director Robert Guy announced today.
Beginning Jan. 1, the Division of Community Corrections will use GPS technology to monitor certain sex offenders, as required by state legislation (House Bill 1896) passed in August.
"Hannah brings a wide array of knowledge and expertise to this position," Guy said. "We are confident she will be an asset to the Division of Community Corrections and this special program."
Rowland has served as a probation officer in Durham and Wake counties, specializing in electronic monitoring cases. She has also managed the state's electronic house arrest monitoring center. For the last five years she has been involved with sales, service and account management for companies that provide the equipment used in GPS monitoring of criminal offenders.
Rowland is a graduate of St. Mary's School and Meredith College with a degree in sociology and criminal justice. She is a resident of Raleigh.
# # #
Editors: A digital photo of Rowland is available by calling the DOC Public Affairs office at 919-716-3700.