James Goodson named Correctional Officer of the Year
MORGANTON – Lt. James "Bo" Goodson of Foothills Correctional Institution was recognized today by Director Boyd Bennett and the Division of Prisons as one of 10 Correctional Officers of the Year.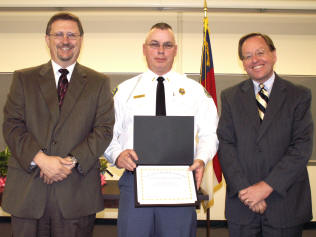 Goodson was recognized for his work as the intelligence officer at Foothills CI. He has been instrumental in the identification and validation of gang members at the prison and at neighboring Western Youth Institution, where he worked from 1996 to 2003.
He assisted in the planning and development of the Security Threat Group management unit which opened at Foothills last year. He also helped develop the Division of Prisons policy on security threat groups (gangs).
"As intelligence officer, he has aggressively pursued collecting intelligence and swiftly provided management with information that allowed action to be taken to prevent injuries to staff and inmates," wrote Assistant Superintendent Barbara Belas in her nomination of Goodson.
Goodson also serves on the Prison Emergency Response Team in the western region and serves as a volunteer for the Burke County Rescue Squad, on its swift water rescue team and its dive recovery team. He often shares his expertise in water safety and first aid in presentations to scouts and civic groups. He is working with the Burke County Sheriff's office to develop a community awareness program on gangs.
Gov. Michael F. Easley has declared May 7-13 as Correctional Officers Week in observance of the important public safety work done by more than 11,000 correctional officers in North Carolina's 77 prisons.
# # #
Editors: A digital photo of Goodson is available via e-mail by calling the Public Affairs Office at (919) 716-3700.