Community Corrections names new Division 4 chief
ASHEVILLE – Jeff Joines, a 29-year corrections veteran, has been named chief of the Division of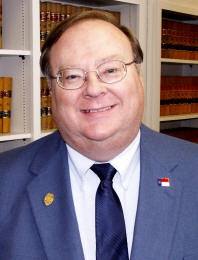 Community Corrections' Division 4, an area encompassing 25 western North Carolina counties.
Joines, previously assistant chief of Division 4, succeeds Roger Haynie, who recently retired. As Division 4 chief, Joines is responsible for 540 probation/parole officers and staff members. Approximately 22,000 offenders are assigned for supervision in Division 4 by North Carolina courts and the NC Parole/Post Release Commission.
In announcing the appointment, Robert Lee Guy, director of Community Corrections, cited Joines' history with corrections as a key reason for selecting him for the job.
"I am confident that the knowledge and experience he has gained through the years with this agency will be a great asset in this new endeavor."
Guy also noted that Joines in 1988 was in the first class of the state's Public Managers class. He became a certified public manager the next year.
Joines thanked Guy and Secretary Theodis Beck for the appointment, and said he looks forward to his new role with Division 4's "dedicated staff of professionals."
"Our goal continues to be public safety and providing a balance of supervision and treatment for offenders in our community," he said. "Our officers have a positive impact on the lives of thousands of individuals every day. I want to do all I can to give our probation/parole officers the tools they need to better protect our citizens."
Joines began his career in corrections as a probation/parole officer in 1977 in his home county, Caldwell, where in 1982 he was promoted to unit supervisor. In 1995, Joines was named District 25B manager in Catawba County, and three years later was promoted to assistant division chief.
A graduate of Appalachian State University, Joines has a bachelor of science degree in history. Active in professional and civic affairs, he is a member of the NC Society of Certified Public Manager, the NC Probation/Parole Association, the Blue Ridge Electric Membership Corp. as a director and corporate officer, the City of Lenoir Economic Development Board, and the Caldwell County Rotary Club, of which he is a charter member and a Paul Harris Fellow, Rotary's highest honor.
Joines and his wife, Rita, a retired educator, have two grown sons: Justin, 25, who will soon enter the Virginia Tech medical school; and Wesley, 23, a UNC-Chapel Hill graduate, who resides in Virginia. Joines' parents reside in Valdese; his father, Major, was Burke County clerk of court prior to retirement.
###
Editor: A digital copy of the photo in color or black-and-white is available by calling 919-716-3700.