Laron Locklear named Correctional Officer of the Year
LUMBERTON – For his dedication to excellence, Sgt. Laron Locklear of Lumberton Correctional Institution has been named one of 10 North Carolina Correctional Officers of the Year. Boyd Bennett, director of the Division of Prisons, and Dan Stieneke, deputy secretary of the Department of Correction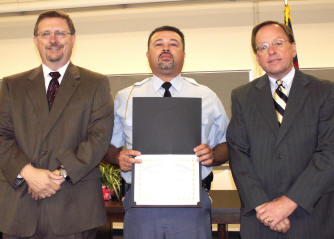 made the presentation at a ceremony Tuesday morning in Apex.
"Doing his job well is not good enough for Sgt. Laron Locklear of Lumberton Correctional Institution," said Ron Surles, the prision's assistant superintendent. "Taking the initiative to do more and doing that well is his objective."
Locklear excelled above his peers by volunteering for assignments that required attention to accurate detail, computer and writing skills. With initiative, he sought mailroom responsibilities, which include requirements for trustworthy accounting skills.
In 2000, Locklear was named an Officer Mentor, a role that revealed his considerable training skills. He ensures that officers are thoroughly trained, while maintaining a positive attitude and being a role model for other officers.
Because of his aptitude for training others, he took and passed the General Instructor Course, became a Certified General Instructor, and an instructor in pepper spray use, firearms and blood-borne pathogens.
In documenting the nomination, Surles wrote, "Sgt. Locklear's professional demeanor, performance, accomplishments and service as a correctional officer and sergeant are noteworthy and deserving of recognition and praise. His high level of productivity and exceptional work significantly impact the overall operation of Lumberton Correctional Institution."
Gov. Michael F. Easley has declared May 7-13 as Correctional Officers Week in observance of the important public safety work done by more than 11,000 correctional officers in North Carolina's 77 prisons.
# # #
Editors: A digital photo of Locklear is available via e-mail by calling the Public Affairs Office at (919) 716-3700.