Michael Martin named Probation/Parole Officer of the Year
LILLINGTON – Michael Martin, a probation/parole officer working in Harnett County, was recognized today by Director Robert Lee Guy and the Division of Community Corrections as one of eight probation/parole officers of the year.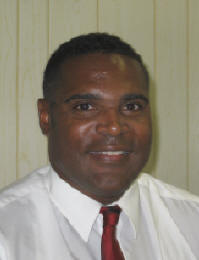 Martin was honored for his part in rescuing a man from an automobile accident on October 6, 2005.
Martin was headed to work that morning when he saw a driver lose control as he turned through an intersection and run off the road into a rain-swollen creek. Martin waded into shoulder deep water and found the elderly driver still strapped in his seat belt. The car's air bag had deployed and the interior was filling with smoke and water.
Martin freed the man from the seat belt and pulled him to safety. Fifteen seconds later, the car sank below the surface.
"I know that gentleman was someone's grandfather or dad, and I'm just thankful I was there to get him out," said Martin.
Gov. Michael F. Easley has declared July 16-22, 2006, as Probation, Parole and Community Supervision Officer's Week in North Carolina in observance of the important public safety work done by more than 2,000 probation/parole officers working across North Carolina.
# # #
Editors: A digital photo of Martin is available via e-mail by calling the Public Affairs Office at (919) 716-3700.