Marvin Freeman named Correctional Officer of the Year
SPINDALE – Marvin Freeman of Rutherford Correctional Center was recognized today by Director Boyd Bennett and the Division of Prisons as one of 10 Correctional Officers of the Year.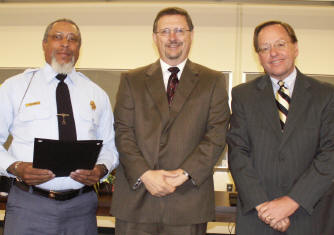 Freeman is a 29-year DOC veteran, and has worked his whole career at Rutherford CI, serving as a transportation officer, clothes house supervisor, community work program officer and occasionally as officer-in-charge. Currently, he supervises the kitchen and dining hall, leading a staff of two food service officers and inmate kitchen workers.
"Officer Freeman's most notable asset is the ability to communicate with the inmate population," said recently-retired Superintendent Johnny Poteat. "He is one of those officers with the unique ability to intervene in any situation and defuse it."
Gov. Michael F. Easley has declared May 7-13 as Correctional Officers Week in observance of the important public safety work done by more than 11,000 correctional officers in North Carolina's 77 prisons.
# # #
Editors: A digital photo of Freeman is available via e-mail by calling the Public Affairs Office at (919) 716-3700.