New Rutherford Correctional Center superintendent named
SPINDALE – Michael Callahan, the former assistant superintendent for Rutherford Correctional Center (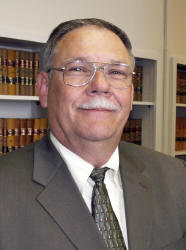 CC) here, has been named to succeed recently retired Superintendent Johnny Poteat. The announcement was made by Boyd Bennett, director of the NC Department of Correction's Division of Prisons.
"Mike has spent his 19-year corrections career at Rutherford, so he has the in depth knowledge and experience needed to run the prison with excellence," Bennett said.
Rutherford CC is a minimum security prison, housing approximately 240 adult males. It has a staff of 60 employees.
Callahan began working at Rutherford CC as a correctional officer in 1988. He rose through the ranks in program positions, being named assistant superintendent in 1968.
Prior to corrections, Callahan spent 22 years in military intelligence. He has a bachelor of science degree from Gardner-Webb University and an advanced certificate in instruction with the Correction Department.
Callahan and his wife, Susan, have two daughters and six grandchildren. He enjoys fishing.
###
Editors: A digital copy of the photo may be obtained by calling 919-716-3700.