Kristie Purvis named Probation/Parole Officer of the Year
SALISBURY – Kristie Purvis, a sex offender officer in Rowan County, was recognized today by Director Robert Lee Guy and the Division of Community Corrections as one of eight probation/parole officers of the year.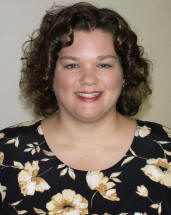 Purvis' performance as a sex offender officer in Rowan County has consistently exceeded expectations, according to Trudy Gale, her chief probation/parole officer. Gales said that Purvis even began her job ahead of the curve.
"When she was named probation/parole officer II in 2000, Kristie volunteered to supervise a sex offender caseload," Gale said. "That was four years before it became a formal program."
Purvis has ensured that a mentally challenged offender had the support he need to manage his life, including finances and health.
Because of her attention to an offender who was an active gang member, Purvis was able to obtain valuable gang intelligence. Additionally, the offender is no longer active in a gang.
When Purvis suspected child abuse by one of her offenders, she acted on her concern for three small boys in the family. She turned up a probation violation that led to the boys divulging their abuse. Both of their parents were sentenced to more than 60 years in prison, and the boys began receiving appropriate care and treatment.
Gale said Purvis often has acted with similar dedication.
"Her efforts have made the community safer against crime, especially sex offenses," Gale said.
Gov. Michael F. Easley has declared July 16-22, 2006, as Probation, Parole and Community Supervision Officer's Week in North Carolina in observance of the important public safety work done by more than 2,000 probation/parole officers working across North Carolina.
###
Editors: A digital copy of the photo in color or black-and-white is available by calling 919 716 3700.