Tonya Sconyers named Probation/Parole Officer of the Year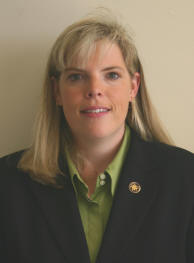 ROCKY MOUNT – Tonya Sconyers, an intensive probation/parole officer working in Nash County, was recognized today by Director Robert Lee Guy and the Division of Community Corrections as one of eight probation/parole officers of the year.
As an intensive probation officer, Sconyers manages a caseload of high-risk offenders, who need frequent and close supervision. She has initiated many searches that have uncovered illegal drugs and weapons.
Sconyers is a 12-year community corrections veteran who serves as the Community Threat Group officer in her unit, working with local law enforcement to combat gang activity. She also works closely with U.S. Immigration agents to make sure that illegal aliens who are sentenced to probation are handled in accordance with federal immigration law.
Sconyers is also active in her community, as a member of the local Fraternal Order of Police lodge and an ambassador for the Rocky Mount Chamber of Commerce. She speaks to school groups about stranger danger and internet safety, and coaches youth soccer and cheerleading.
Gov. Michael F. Easley has declared July 16-22, 2006, as Probation, Parole and Community Supervision Officer's Week in North Carolina in observance of the important public safety work done by more than 2,000 probation/parole officers working across North Carolina.
# # #
Editors: A digital photo of Sconyers is available via e-mail by calling the Public Affairs Office at (919) 716-3700.