Vanessa Lee named Correctional Officer of the Year
ELIZABETH CITY – For an act of bravery last summer, Officer Vanessa Lee of Pasquotank Correctional Institution has been named one of 10 North Carolina Correctional Officers of the Year. Boyd Bennett, director of the Division of Prisons, and Dan Stieneke, deputy secretary of the Department of Correction, announced the award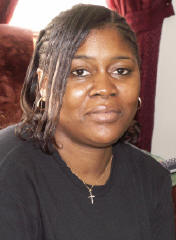 at a ceremony Tuesday morning in Apex.
At Pasquotank Correctional in July 2005, Officer Lee was helping Assistant Unit Manager Ronald Snyder detain an inmate, when the inmate suddenly turned violent, knocked Snyder unconscious and continued beating him. Officer Lee tried to stop the assault, and was knocked backward by powerful elbow blow to her chest. She regained her balance, and again went after the inmate, who was still punching Snyder's face. This time, the inmate punched Officer Lee in the face several times, knocking her to the floor.
Officer Lee was able to discharge her pepper spay, but it seemed to have no effect on the inmate. Instead, he began kicking her. She could not see, with pepper spray in one eye and the other swollen shut.
Other staff members responded and ended the inmate's assault.
Nominating her for the award, Assistant Superintendent Melvin Horton wrote that Officer Lee "exhibited both heroism and bravery by coming to Mr. Snyder's aid during an assault." Officer Lee's heroic intervention resulted in injuries that still prevent her return to work.
Lee, who has an associate degree from the College of the Albemarle and a diploma from Kee Business College, has been employed at Pasquotank Correctional Institution since 2001.
Gov. Michael F. Easley has declared May 7-13 as Correctional Officers Week in observance of the important public safety work done by more than 11,000 correctional officers in North Carolina's 77 prisons.
# # #
Editors: A digital photo of Lee is available via e-mail by calling the Public Affairs Office at (919) 716-3700.