Sgt. William Herring named Officer of the Year
SMITHFIELD – For an act of bravery in March, Sgt. William Herring of Johnston Correctional Institution has been named one of 10 North Carolina Correctional Officers of the Year. Boyd Bennett,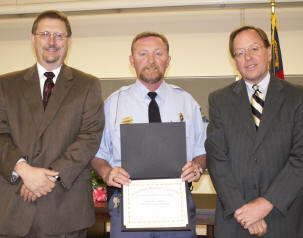 director of the Division of Prisons, and Dan Stieneke, deputy secretary of the Department of Correction, made the presentation at a ceremony Tuesday morning in Apex.
On his way home from work at Johnston Correctional Institution on March 29, Herring saw a garbage truck run a stop sign on Highway 210, go off the road and turn over as it plowed down an embankment. Sgt. Herring quickly pulled off road and ran to check on the driver.
The driver was hurt, bleeding badly, and unable to get out of the truck by himself. Also, a fire had begun under the truck's dashboard.
Herring pounded the back window of the truck cab until it broke so he could pull the driver free. Not only did Herring fight time, he had to fend off another witness who was trying to get Herring away from the burning truck.
Herring stayed with the driver until emergency medical personnel arrived.
Nominating Sgt. Herring for the award, Johnston Capt. Eddie Thompson wrote, "Sgt. Herring's heroic actions surely prevented injury or death to the driver of this vehicle."
Herring is also a Mason and a Shriner.
Gov. Michael F. Easley has declared May 7-13 as Correctional Officers Week in observance of the important public safety work done by more than 11,000 correctional officers in North Carolina's 77 prisons.
# # #
Editors: A digital photo of Herring is available via e-mail by calling the Public Affairs Office at (919) 716-3700.