Correction division names No. 2 executive
RALEIGH – Glenn Mills, a 29-year corrections veteran, has been named the No. 2 executive in the Division of Community Corrections.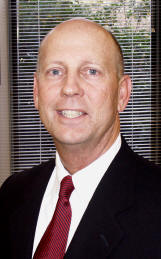 As senior administrator, Mills oversees the division's field, program and support sections, said Robert Guy, division director, who announced the appointment. Mills will be responsible for such programs as post-release and electronic supervision, field services, victim services, criminal justice partnerships and information technology support.
Guy noted that Mills' qualifications include a history of rising through the Community Corrections ranks, beginning as a probation/parole officer in Carteret County in 1977. He also was an intensive probation/parole officer in Carteret and Craven counties, and was later transferred to Pitt County, where he was in charge of the pilot house arrest program 1989.
Mills was named assistant manager in 1990 for an 18-county region of the division, and then manager of the region in 1993. He became chief of Division I – a 32-county region based in Greenville – when Community Corrections was reorganized in 1996.
"Glenn's experience reflects the leadership skills that he brings to his new job," Guy said. "He is very good at listening to issues and concerns and helping people through the processes that result in solutions. Glenn also gives excellent support to his staff members, including help with their day-in, day-out job functions."
Mills said his love for the profession drives his vision for the new assignment.
"Because our real mission is public safety, I want to do all we can to help people redirect their lives," he said. "That will include supporting the staff by providing the skills training they need to do their jobs.
"Additionally, I want to ensure all functions are well-coordinated, allowing our people to work more efficiently."
The Pitt County native graduated with a bachelor's degree in psychology from East Carolina University in 1977. He has also completed the North Carolina certified public manager course for state employees.
Mills is a charter member of the N.C. Probation/Parole Association. He enjoys golf, boating and surfing in his spare time.
Editors: A digital copy of the photo in either color or black-and-white, can be obtained by calling 919-716-3700.