New administrator named at Harnett prison
LILLINGTON – Joseph Hall, a 27-year corrections veteran, has been named administrator at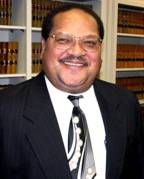 Harnett Correctional Institution, a medium security prison, confining approximately 850 adult males. He was previously the prison's assistant superintendent for programs.
The appointment of Hall, who succeeds the retired Sherwood McCabe, was announced by Boyd Bennett, NC Division of Prisons director. Bennett said that, in addition to extensive experience, Hall has very good leadership qualities.
"Joseph leads by example, demonstrating great people skills," he said. "He is also an effective follower and he's fair, treating people – both staff and inmates – with compassion and kindness."
Hall began his career in corrections in Virginia in 1979, after three years in the Navy and earning his degree in government administration and sociology from Elizabeth City State University.
He moved to North Carolina, his home state, in 1983 and began working as correctional officer at Gaston Correctional Center. He rose through the ranks in program positions at Gaston, Goldsboro Youth Center (now closed) and Johnston Correctional Institution, being named assistant superintendent for program at Harnett in 1995.
"I look foward to continuing to work with staff and the rest of the management team at Harnett Correctional Institution, to maintain the outstanding reputation of this facility and provide the quality of educational programming that has made this facility one of the flagships of rehabilative opportunity for inmates within the division of prisons," Hall said.
The South Hills native has undertaken graduate studies at Norfolk State University and has completed a course in corrections management at Wayne Community College.
The avid weight lifter is also active working with youths through his fraternity and church. He enjoys history and staying informed of political news.
Hall and his wife, Rene, have two sons. They reside in Goldsboro.
Editors: A digital copy of the photo , in either color or black-and-white, can be obtained by calling 919-716-3700.